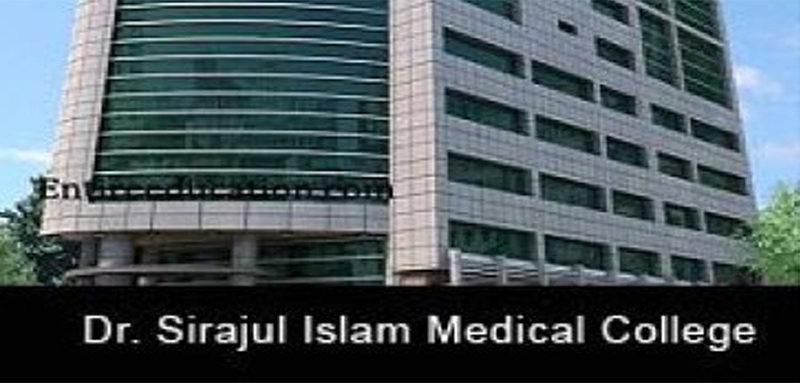 DR. SIRAJUL ISLAM MEDICAL COLLEGE-
EVERYTHING YOU NEED TO KNOW:


Located in Bangladesh, Dr. Sirajul Islam Medical College is one among the top medical colleges and students across the globe look forward to study from it because of the dynamic course structure, infrastructure and the constant efforts by the institution to provide quality medical education to address the emerging and existing medical problems in the world. The students are prepared to tackle every situation in the field and make them technologically comfortable and confident for the technologically updated generation. Being in Bangladesh, the fee structure is already way too affordable for students as compared to India and other countries. Dr. Sirajul Islam Medical College was established in 2011, at Maghbazar, Dhaka. Since then, it had been witnessing success and producing competent students for the world. Dr. Sirajul Islam Medical College is affiliated as a Constituent college by Dhaka University. With a five year course in MBBS, a year of internship is also compulsory for all the students, making them more active practically. Dr. Sirajul Islam Medical College is recognised by various authorities of education and health such as Bangladesh Medical and Health council, Ministry of Health and Family welfare, Medical council of India, etc. as a quality education provider. The students are prepared to provide medical care throughout the world and contribute to the medical field.


Faculties-
There are 8 faculties in Dr. Sirajul Islam Medical College.
Faculty of General Medicine (MBBS)
Faculty of Dentistry
Faculty of Surgery
Faculty of Cardiology
Faculty of Physical Medicine
Faculty of Radiology and Imaging
Faculty of Gynaecology and obstetrics
Faculty of Psychiatry
These faculties provide quality education to the students and make sure they achieve excellence in their respective fields.
Fee structure:
As already mentioned, Bangladesh is very cheap for MBBS as compared to Indian colleges and universities and at the same time, the colleges in Bangladesh do not compromise in the quality of the education irrespective of the cheap fee structure.
The total tuition fee of MBBS in Dr. Sirajul Islam Medical College is $40000. Hostel fee and Mess fee is as cheap as 50$ a month respectively, which indeed shows that this is really cheap for an institution this prestigious.
So, if you are looking for colleges to study MBBS at a very affordable price, keep Dr. Sirajul Islam Medical College in your list! For any further queries and admissions, contact studymedico.com for assistance.