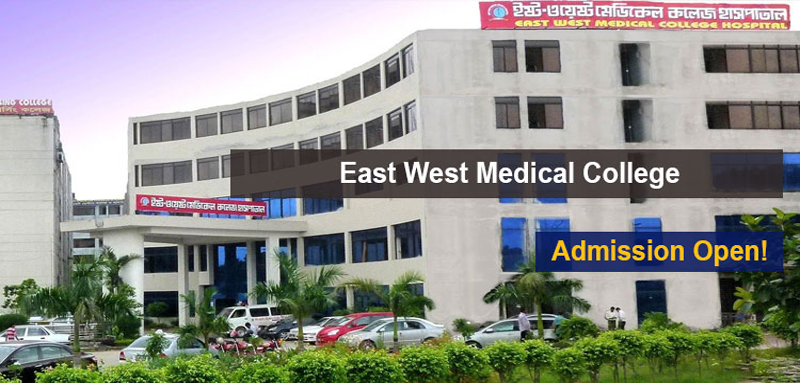 EAST WEST MEDICAL COLLEGE, DHAKA-
EVERYTHING YOU NEED TO KNOW:

East-West Medical College and hospital is one among the most prestigious and prominent institute offering MBBS. It is surely an institute to count on while considering best colleges for MBBS. The East-West Medical College was established in 2000 under the trustee broad of Alim Foundation and has been setting education standards for various medical institutes throughout the world. The college is credited for its valuable contribution in medical services. The sole motive of East-West Medical College is to provide better health services to the society while educating the future generation for serving as specialists and well trained and educated doctors in the different parts of the world. East-West Medical College is located on the beautiful river bank of Turag in Aichi Nagar, Dhaka. The college is well updated with a dynamic education structure with technologically updated infrastructure. The East-West Medical College is recognised by Bangladesh Medical and dental council, International Medical Education Directory, Foundation for Advancement of International Medical Education and Research and is enlisted among World Directory of Medical Schools. All these affiliations and credits add on to the fact that East-West Medical College is accepted worldwide and students from here have a wide scope of opportunities after MBBS.
The duration of the course is 5 years and is designed as per the international standards. The fee structure of East-West Medical College is very affordable as compared to colleges in India and it does not compromise the quality of education for cutting off the cost. The low fee structure makes it easy and possible for candidates from every status to study from the East-West Medical College.

The total tuition fee for the course of MBBS at East-West Medical College is $40000 and the other expenses like hostel charge and mess charge costs around $100 and $60 respectively.

Apart from the academic part, the environment of the East-West Medical College is well designed for students to achieve the most out of the college. A student is made for the students, where students from various parts of the world interact with each other to learn better and efficiently. The East-West Medical College appreciates more on the student development through activities like these.

East-West Medical College is surely a great option for all those willing to pursue MBBS from Bangladesh and it will surely help them achieve success and become best in their fields. For any further doubts an admissions, contact studymedico.com.