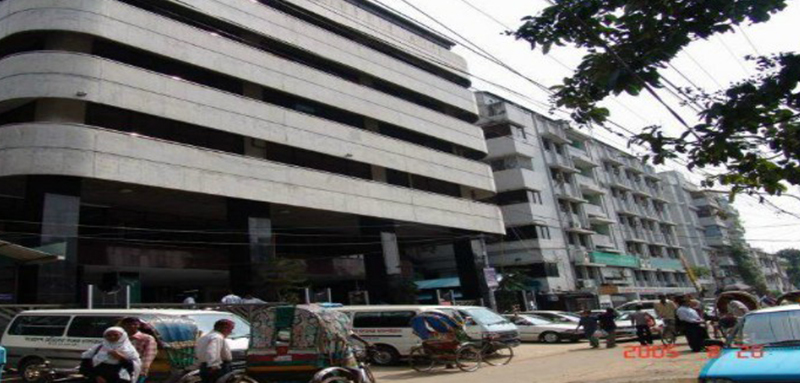 Sylhet Women's Medical college and Hospital
Sylhet Women's Medical College Bangladesh is a private medical institution located in Bangladesh founded in 2005. It was created exclusively specifically for women students. It is located in Mirboxtola situated in the central region of Sylhet. SWMC is associated with Shahjalal University of Science and Technology (SUST) within the School of Medical Sciences. Sylhet Women's Medical College as well as Hospital is a state of modern medical and teaching facility that has three high-rise buildings constructed over 130,000 sq ft of space in the center of Sylhet.SWMC offers a five (five) year course of research leading towards the Bachelor of Medicine and Master of Surgery (MBBS) degree. The distinctive architectural style of the college's building is what makes Sylhet Women's Medical College as well as Hospital very unique.
In Sylhet Women's Medical College & Hospital the guiding principle of our institution is "Excellence in Healthcare & Education. The internships can be paid around 156000 and is internationally acknowledged. The campus at the college is situated in a stunning setting and 3 buildings that cover one hundred thousand square feet located in the middle of Sylhet.
Accreditation and Recognition of Sylhet Women's Medical College as well as Hospital
The Sylhet Women's Medical College and hospital in Bangladesh is recognized by the following organizations:
Associated with Bangladesh medical and dental council
The College has been officially recognized
Assembled in World Health Organization (WHO)
Associated with National Medical Council (NMC)
Involved with Ministry of Health and Family welfare
UNESCO
BMDC
SMC
What is the reason to study MBBS with Sylhet Women's Medical College and hospital?
English is the primary medium for teaching at Sylhet Women's Medical College and the hospital.
It is not required to pass IELTS or TOEFL to gain admission, in order to work in foreign countries.
You don't have to pay for huge fees for fat charges. Fees are reasonable here.
Research is conducted by many departments in medical research that comprises a total of 35 colleges
A total of more than 100 talented academicians and professors are part of the college.
An improved selection of modern medicine as well as hands-on training for all students who wish to pursue MBBS.
A multi-specialty hospital is housed within the college that aids students during their clinical exercises.
The college offers MBBS completely 18,00,000.00 Tk. (five Years) for the MBBS course.
Internationally recognized and respected
The degree awarded by Sylhet the Women's Medical College and Hospital is an official degree. As such students can apply for employment in any country in that specific country.
Students can apply for numerous internships during their studies within Sylhet Women's Medical College and hospital, like an added bonus The College has a nearby hospital inside its building. The hospital is housed in two impressive buildings. One is 9 stories tall, the students will be able to work in clinical and paraclinical labs because that the student can gain more experience, which gives them the opportunity to complete an internship, as well as helping students to develop while spending less money. Additionally, thanks to internships, they don't have to rely on their family to pay for their expenses.
28 students are currently learning at Sylhet Women's Medical College and hospital. Each year, 160 learners are admitted to MBBS and 24 students are admitted to various postgraduate courses.
The library is fully enhanced with 3,615 journals. It is also air-conditioned, in a serene setting.
The college has been officially recognized.
The College is staffed by expert personnel who can expose students to the practical aspects of the medical field to ensure they can develop their interests
The college is well equipped with infrastructure
The college also offers students' academic resources and laboratories and offices for lectures.
IELTS and TOFEL Criteria are not applicable to TOFEL and IELTS.
The college also celebrates numerous Indian festivals since there are many Indian students
The college also organizes sporting activities and cultural events towards the end of each semester to help students improve their physical fitness
Health camps are also organized.
Benefits to MBBS at Sylhet Women's Medical College and the hospital
A few of the advantages of the study of MBBS from Sylhet Women's Medical College and the hospital are:
The costs of college are affordable for a 5 year MBBS course, which is about 38000USD (For 5 years)
Students are safe because they roam free on the secure campus
It also offers practical information and provides research to expose and also for social services, and a variety of humanitarian organizations for the different achievements of students
The cafeteria at the college is available in which food is prepared under clean conditions. Indian cuisine is served so there is no reason to leave the campus because it provides the most nutritious and healthy food for students in the college itself under hygiene standards that are appropriate.
A multi-speciality hospital is located inside the University, which is beneficial to students in their clinical training.
This is because it allows for the most high-quality care and treatment for an affordable cost.
The college offers many medically practical opportunities for students to participate with the best, fully-structured laboratories for students.
The hospital of the college provides excellent levels of patient satisfaction which is the principal goal of the hospital.
The city is totally safe
It also offers four professional exams at the end of the year.
Teachers here are refreshed and experienced because they have attended the top Universities across the globe and have succeeded by their graduations and post-graduation.
The college also offers extracurricular activities to students to showcase their creative skills
The college saw significant changes within the realm of teaching especially in the field medicine, as it exposed students to practical information in the field of medicine.
it is one of the top institutes of medical sciences in Dhaka
The college offers a serene atmosphere to study
Study Duration in Sylhet women's medical College and in the hospital
1 year and 6 months of Anatomy, Physiology and Biochemistry. Professional MBBS exam continuing to one year in the Community Medicine along with Forensic Medicine are the Second Professional MBBS exam followed to the 1 year of microbiology, pharmacology and therapeutics and Pathology. Third Professional MBBS exam and lastly one year and six months to study Medicine and related subjects. Surgery and related subjects, Obstetrics, Gynaecology and the like will be the Final Professional MBBS exam. MBBS is offered at Sylhet Women's Medical College and hospital, which is an NMC/MCI, WHO, officially approved medical school offers a five-year program and a year of hands-on learning (internship) at an affiliated hospital that is renowned and you are also able to enroll in internships in your spare time that gives them an excellent opportunity to complete an internship. It has a multi-special close-by hospital is located in the building that allows students to benefit from their clinical work
Faculty of the Sylhet Women's College of Medicine and hospital
Basic Science
Anatomy
Physiology
Biochemistry
Forensic Medicine
Community Medicine
Department of Pathology
Pharmacology
Surgery & Allied
Obstetrics & Gynaecology
Medicine & Allied
Therapeutics
Eligibility Criteria for studying MBBS in Sylhet Women's Medical College and Hospital
Criteria for eligibility for Indian students seeking admission to MBBS for admission to the Sylhet Women's Medical College and the hospital as follows:
NEET (National Eligibility and Entrance Test) is a must
The candidate must have passed to take an exam such as the HS/'A' or an equivalent exam in order to be qualified to be considered for MBBS admission.
The student must not have completed the 10th/ SSC/ 'O' level examination before 2017. 10thor SSC/ 'O' exam prior to the year 2017.
The student shouldn't have passed the 12th or HSCor "O" Level examination before the year 2019.
The minimum aggregate GPA students must achieve in Class 10th/SSCor the equivalent exam is 7.
Minimum GPA for SSC or any other equivalent exam and HSC or equivalent examinations is 3.5.
The minimum GP you have to obtain in Biology of 12th grade is 3.5
To determine the GPA in relation to the marks achieved in SSCor the 'O' level exam or an equivalent examination the top five marks for each subject are determined. Thus, the GPA at the O level is calculated as the sum of marks for all five subjects divided by five.
To determine the GPA against the marks earned in the HSCor 'A' level exam or other equivalent exam the top three marks for the three subject areas (Physics, Chemistry, and Biology) are determined. Therefore, the GPA at the A grade is determined as total marks for all the top 3 subjects 3.
Admission Procedure that includes Sylhet Women's Medical College and hospital
Sylhet Women's Medical College and hospital admission procedures are as the following:
Step 1. Fill in the Admission Form. Download the application form from the site BFM and fill in the application form in the name of the institution.
Step 2. Submission of academic documents such as X mark sheet (educational certificates) as well as birth Certificate, NEET scorecard and Passport size photos.
Step 3. admit cards that have been authenticated by Bangladesh High Commission, Delhi
Step 4. Passport: you can apply for your passport
Step 5. Students need to submit an application for a 'Visa Invitation letter', for which you will require the following information: Passport Medical Fitness Certificate HIV Report Passport size photos on a white backgrounds
Step 6. Visa stamping is the final step in your admission process in Delhi.
Step 7. Once the application is received by the student The University will then send an acceptance letter to Sylhet Women's Medical College and admission to the hospital. There's no requirement to go to the DGHS to obtain an equivalent certificate when you receive the offer letter. Simply send the mark sheets along with all the required documents to Bengal Deputy High Commission, Kolkata with an amount of 60$ in order for the DGHS approval.
Documents needed to be submitted for admission to Sylhet Women's Medical College and hospital
Students who want to attend the Sylhet Women's Medical College and hospital (CIMC) to complete their MBBS program need to be able to submit all the required documents.
Documents are required for Sylhet Women's Medical College and hospital
Notes from the 10th and 12th classes
6 passport-size picture
Transfer certificate
Passport
Migration certificate
Medical insurance as well as HIV test results
Medical Council of India eligibility certification
Birth Certificate
Police clearance certificate
Physical fitness certification
Student Visa