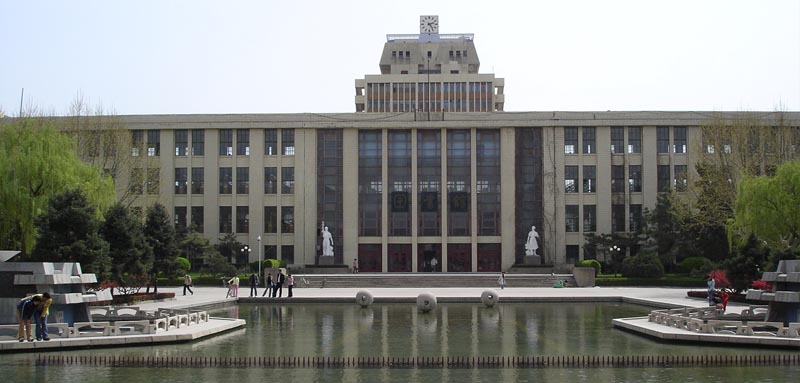 INTRODUCTION
Xian Jiatong University is a national C9 League research university with a strong emphasis on engineering and technology, located in Xian, Shaanxi and China. It origins from Jiao Tong University, also spelled as Chiao Tung University, located in Shanghai founded in 1896 as Nanyang Public School. The original Jiaotong University was one of the top research universities in the nation. Their alumnus includes scholars like An Wang and Tsien Hsue-shen. In 1956, following the national strategy, the major portion of Jiao Tong University moved to Xian, Shaanxi and later became Xian Jiatong University. The remaining portion in Shanghai later became Shanghai Jiao Tong University. Some alumni of the original Jiaotong University established the National Chiao Tung University in Hsinchu, Taiwan after the Chinese Civil War and the government of Republic of China's relocation to Taiwan.
Today, Xian Jiatong University is a comprehensive research university offering programs in nine areas-science, engineering, medicine, economics, management, art, law, philosophy and education-with an emphasis on science and engineering. It includes 20 schools, eight undergraduate residential colleges, and eight affiliated teaching hospitals. XJTU has a faculty and staff of more than 5500, of which 2500 are full-time teachers, including over 1500 professors and associate professors.
XJTU has a current enrollment of more than 30,000 full-time students, including over 13,000 masters and doctoral candidates. The university offers 78 undergraduate majors, and awards master's degrees in 200 disciplines and Ph.D. degrees in 115. Among these, there are 8 which are designated as first-order key disciplines by the Chinese government, and 37 which are designated as second-order key disciplines. In addition, 115 disciplines are recognized as key disciplines at the provincial and ministerial level. XJTU offers Master degrees 18 areas, including engineering, clinical medicine, business, and MPA; it has 20 research facilities for post-doctoral students, four national key laboratories, four national special.
laboratories, two national engineering research centers and 59 key research centers and laboratories at the provincial and ministerial level. In 1995, former Xian Medical University established the Program of Clinical Medicine for International Students, began to enroll qualified international students, aiming to produce clinicians and doctors served in clinics and hospitals. Currently, nearly 500 international students from Pakistan, Nepal, India, Maldives, Canada, Iran, Sudan, USA and other countries are studying in.
History
The predecessor of Xian Jiatong University is Nanyang Public School that was founded in Shanghai in 1896; in 1905, it was transferred to the commercial department and was renamed High Industrial School; in 1906, it was under the command of postal transmission department. It was renamed Shanghai High Industrial School of Postal Transmission Department. In 1911, Xinhai Revolution broke out. The school was renamed Grand Naiyang University. After the Republic of China was founded in 1912, it was managed by the traffic department and was renamed Shanghai Special Industrial School of Traffic Department. In 1921, Jiaotong University was set up by merging Shanghai Special Industrial School, Tangshan Special Industrial School, Beiping Railway Management School and Beiping Post Telecommunication School. The university was called Shanghai School of Jiaotong University; in 1922, Jiaotong University had three schools. The original Shanghai School was renamed Nanyang University of Traffic Department. In 1927, it was renamed the First Jiaotong University of the Traffic Department; in 1928, the Guomin Government issued "Organizational Outline of Jiaotong University". The three schools in Shanghai, Tangshan and Beiping were all called Jiaotong University. The head quarter was in Shanghai. In the same year, it was transferred to the railway department.
During the anti-Japanese War, the university was moved to the French Concession and in 1940 the state-run branch of Jiaotong University was set up in Chongqing. In 1941, to prevent the Wang puppet government from taking over the university, it was run continually in the name of Private Nanyang University. In 1942, the Wang government took over Shanghai School. So the Education Department of Guomin government chose Chongqing branch as the headquarter of Jiaotong University. After the anti-Japanese War was won, Chongqing headquarter went back to Shanghai and merged with Shanghai School. In 1946, the name of state-run Jiaotong University was recovered.
In 1956, following the national strategy, the major portion of Jiao Tong University moved to Xian, Shaanxi and later became Xian Jiatong University in 1959. In the same year, Xian Jiatong University was listed as the key university in China. Later, it became one of a few universities built according to the "Seventh Five-Year Plan" and "Eighth Five-Year Plan." It was one of the universities that entered the construction of "211 project" of China. In September, it was determined to be one of a few universities that had the target to build world famous high level University. In April 2000, approved by the State Council, Xian Medical University, Shannxi Institute of Finance and Economics and Xian Jiatong University were merged and formed the new Xian Jiatong University.
Xian Jiatong University, which is located in the city of Xian in Shaanxi province, has three campuses: the Xingqing campus, the Yanta campus and the Qujiang campus, covering a total area of 256.78 hectares. The total constructed area is 1.7623 million square meters. The Qian Xuesen Library, which is located on the Xingqing campus, incorporates nearly 40,000 square meters and has 3518 reading seats. The library collections include 4.47 million books and 10,053 newspapers and periodicals, of which 4089 are current periodicals. The library has been adding to its digital collections and has recently introduced 252 foreign electronic resources.
Medical School
The School of Medicine of Xian Jiatong University, which used to be the School of Medicine of National Peking University, was founded in 1937. It was renamed Xian Medical University in 1985. After the affiliation of the Xian Medical University with Xian Jiaotong University in April, 2000, it was given the name of "The School of Medicine" of Xian Jiatong University. Famous for the Unity, Diligence, Preciseness and Innovation as its tradition, the school is like a cradle which has cultivated advanced medical experts in the Northwest region of China. It is the only top medical science school directly attached to the Ministry of Health in the Northwest region, as well as a branch of Academy of Medical Science in China.
It has gradually established a complete administrative system for educating and training both undergraduate and graduate students. For undergraduates, at present, there are subjects as Clinical Medicine, Dental Medicine, Nursing, Medical Jurisprudence, Preventive Medicine, Pharmacology, Medical Engineering and so on. There are 10 authorized places for awarding doctorates and 29 places for master's degrees. The authorized places for awarding these degrees cover all medical specialties and most of the related medical specialties. For undergraduate student education the emphasis is on practice with basic knowledge and extensive education. The school has built up a training mode of "Broad Entrance, Strong Foundation and Emphasis on Practice", and under this training mode, the graduates have got high praises from their employers. For postgraduate student education, the emphasis is on training on innovative thoughts and abilities. Besides, the school has actively developed recruitment and training for the students with bachelor's degree of Clinical Medicine and MPH.