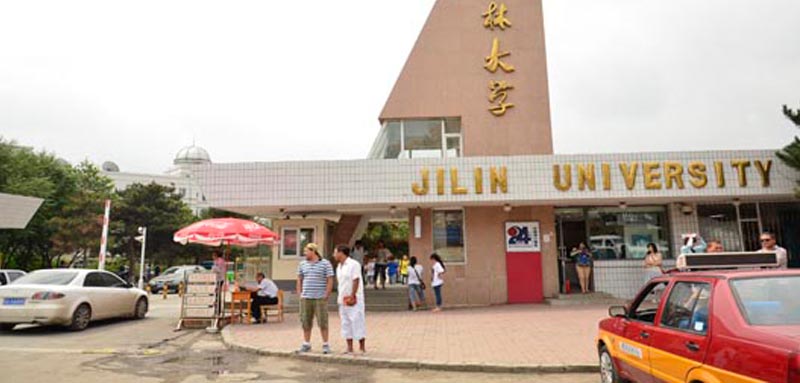 INTRODUCTION
Jilin University is a leading national university under the direct jurisdiction of China's Ministry of Education. Located in Changchun, the capital city of Jilin Province in Northeast China, the university has eight campuses in five districts which are home to thirty-nine colleges covering eleven academic disciplines, including philosophy, economics, law, literature, education, history, science, engineering, agriculture, medicine, and management. The University has sixteen disciplinary areas, five national key laboratories, and eight national bases for the development of basic science. Other resources include five research bases for humanities and social sciences, seven key laboratories sponsored by the Ministry of Education and eleven by other ministries of Chinese government.
Jilin University is one of the most prestigious "Top 10" universities in China, and has several research projects in automobile engineering, chemistry, computer science, electrical engineering and biology. JLU also provides undergraduate and graduate programs in law, literature, philosophy and veterinary science. It is one of the key universities involved in China's Project 985 and Project 211.
Jilin University is a comprehensive and national key university JLU offers a variety of degree programs. It has now 115 undergraduate programs, 192 Master's degree program, 105 doctoral degree programs, and seventeen post-doctoral programs.
History
Founded in 1946 as the Northeast College of Administration in Harbin, Heilongjiang, Jilin University merged with many Universities and colleges and changed its name many times. In May 1948, the Northeast Administration College merged with the Harbin University and was renamed Northeast Academy of Science. In November 1948, the Northeast Academy of Science moved to Shenyang, Liaoning and restored the name of Northeast Administration College. In 1950, it was renamed to the Northeast People's University. After the Korean War broke out, the Northeast People's University evacuated to Changchun, Jilin. In 1958, it was renamed "Jilin University." In 2000, the Jilin University of Technology, the Bethune Medical University, the Changchun University of Science and Technology and the Changchun Institute of Posts and Telecommunications merged with JLU. On August 29, 2004, the University of Military Logistics became another campus of JLU. The Zhuhai campus was established in 2003.
Facilities
There are more than fifty multimedia classrooms and language learning audiovisual classrooms. Special attention has been paid to the construction of 20 basic science laboratories
The university library claims a collection of 5.26 million books and is designated as the library of United Nations Educational, Scientific and Cultural Organization (UNESCO), United Nations Industrial Development Organization (UNIDO) and World Bank. It also serves as the Comprehensive Information Center of Liberal Arts of the Education Ministry, the only Foreign Scientific Text Book Center in Northeast China, and the National Humanities and Social Science Higher Education Books Import Center. It is one of the seven centers of China Academic Library and Information System (CALIS) Center in Northeast China.
Several campuses have gymnasiums, stadiums, and arenas for basketball, volleyball, table tennis and artistic gymnastics. The Nanling Campus Stadium, which has a grass soccer field surrounded by standard synthetic racetracks, has 10,000 seats. There are also tennis and basketball courts throughout the campus.
Jilin University has established ties with more than 130 universities, colleges, and research institutes in 40 countries/districts. Over 1,200 foreign students currently attend the university.
Jilin University has established worldwide exchange and cooperation ties with more than 130 universities, colleges, and research institutes in 40 countries/districts. The faculties members have visited abroad thousands of times, while more than 500 foreign experts have been invited to attend international conferences, give lectures, or do joint researches on campus. Over 1200 foreign students are currently enrolled in Jilin University.
Life for International students is pleasant. Dormitory rooms are furnished with nice furniture, TV-set, telephone and network terminals. There are reading rooms, cyber-cafe, and tearoom and fitness room in the building. Each year, the University hosts many academic and cultural events including seminars, forums, speech competitions and, performances on various topics and subjects. 150 student groups and organizations enrich campus life with colorful activities.