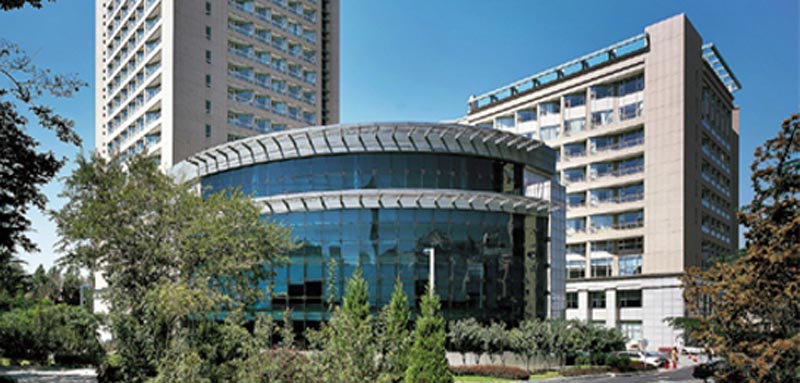 INTRODUCTION
Founded in 1947 as Guandong Medical College, Dalian Medical University (DLMEDU) has developed into a multi-disciplinary medical university located in the coastal city-Dalian. As the biggest harbor city in Northeast China region, Dalian is an important international shipping center, logistics center and financial center in Northeast Asia. Owning excellent environment and temperate climate, Dalian was firstly listed as the "Best Tourist Cities" of China. In 2009, it was recognized by UNEP and awarded the highest prize of international garden city by IFPRA.
DLMEDU is the largest medical university in China which enrolls the most international students, as much as 1300 from 82 countries in degree programs. It occupies an area of 373 acres with building area of 94 acres and contains 22 teaching and scientific research institutions, 5 supplementary teaching organizations, 1 branch college, 1 affiliated medical school, 9 affiliated hospitals (2 are directly affiliated hospitals), over 100 teaching bases, 1 state level International Scitech Cooperation base, 1 ministerial level research institution, 1 ministerial level lab, 10 provincial level key labs, 1 provincial level engineering technology research center and 6 provincial key labs for universities.
The university has a staff team of 4500, including 580 professor, 660 associate professors and 910 Doctoral. and master tutors. The number of students has reached up to 12,800, including 1300 international degree students. In 2011, 246 international students are admitted to take the Bachelor's degree programs taught in English or Chinese, which covers Clinical Medicine, Oral Medicine, and Nursing. Clinical Medicine is the earliest established discipline in DLMEDU with solid foundation and strong academic strength.
The MBBS program for international students in DLMEDU was set in 2004 and in 2007 the MOE declared it as the qualified university to offer English-taught MBBS program. The program is open in each spring and autumn, with the same duration and tuition fee. Besides, it can be taught in English and Japanese upon students' choice. According to the framework agreement on degree accreditation between MOE of China and other countries, the degree awarded by DLMEDU is recognized in 31 countries. In addition, the university also signed agreements with medical associations in Thailand, Ghana, Sri Lanka.
The university has carried out the exchange and cooperation in domestic and abroad widely. Till now, it has established cooperative relationships with University of Sao Paulo Medical School in Brazil, The University of Adelaide in Australia, the Ohio State University in USA, the University of Groningen in Holland, University of Toyama in Japan, University of Oslo in Norway, BaFuLuoFu State Medicine University in Russia, Dnepropetrovsk National University in Ukraine etc 99 universities or scientific institutions in 38 countries and regions.
DLMEDU is recognized by WHO and the graduates of MBBS program are eligible to take the Medical Licensing Examinations held by the medical councils in different countries such as MCI, PMDC, USMLE, HPCSA, SCHS etc.
Program Description
*Study Duration
There are two options, students participated in this program can choose either of them:
7 years clinical medicine towards master degree -- 5 years' bachelor program + 2 years' master program.
6 years -- bachelor program
Main Courses
Histology & Embryology, Cell Biology, Biochemistry, Physiology, Microbiology, Immunology, Pathology, Pathophysiology, Topography, Medical Statistics, Epidemiology, Hygiene, Pharmacology, Clinical Diagnostics, Ultrasound, Medical Imageology, Internal Medicine, Neurology & Psychiatry, Pediatrics, Ophthalmology, Otolaryngology, Dermatology, Stomatology, Clinical Psychology, Pediatrics etc.
Scholarships
The Dalian Municipal Government provides scholarship of RMB 8,000 per year for each MBBS student. The former tuition fee for MBBS program is RMB 40,000 per year, while now students only need to pay RMB 35,000 per year.
Degree Awarded
MBBS Degree: Upon graduation, there is no requirement on HSK Level for students to get the diploma. On completing the requirements of the teaching program and passing the graduation examinations successfully, international medical undergraduates will be granted a graduation certificate and conferred a medical degree by the DLMEDU, if they meet the degree regulations of the university. The English copy of the degree will state MBBS (Bachelor of Medicine and Bachelor of Surgery)