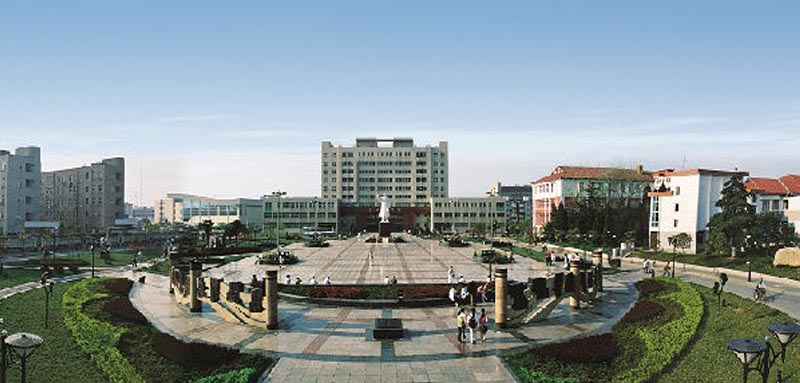 INTRODUCTION
Anhui Medical University(AMU) is one of the oldest educational institutions in Hefei, Anhui province, which is located in the east of central China and honored as "the city with State Innovation of Science and Technology". Around the two campuses are some of the renowned universities and institutions, such as University of Science and Technology of China(USTC), Hefei Institutes of Physical Sciences of China Academy of Science (CASHIPS), and Hefei.
The university was originally established as the Shanghai South eastern Medical College MBBS studying in Europeon May 29, 1926. It relocated from Shanghai to Hefei and was renamed Anhui Medical College in 1949. In 1986, it officially became Anhui Medical University to reflect its expertise and specialization in medical sciences.
The university consists of two campuses; the main campus and the southern campus. The total campus covers an area of 860000 square meters and with total floor space of about 700 thousand square meters. The campus proper is located on South No.1 Ring-Road of Hefei.
The university has the longest history and is also the first authorized university to admit Ph.D. and post-doctorial students in Anhui Province. Different undergraduate programs and courses are being offered in 21 special fields of study, and one 7-year bachelor-master program (clinical medicine). The university has been authorized to establish 2 post-doctorial scientific research programs, to grant doctorial degrees in MBBS studying in Europe MBBS studying in Europe 4 specialties, and to award master's degrees in 46 specialties. The spectrum of subjects has steadily been extended and now has developed into a comprehensive medical university with 23 subjects covering nearly all of the medical fields including Clinical Medicine, Public Health and Preventive Medicine, Health Management, Pharmacology, Dentistry, and Nursing, among those eight subjects have been qualified to offer Ph.D. degree. The University consists of eight faculties, totally, 17,000 enrolled students, in which Medical Faculty predominates with over 6,000 students including clinical medicine, laboratory medicine, psychology, anaesthesia, and medical imaging, etc.
Recognition
World Health Organization (W.H.O) , MOE, and eligible of PLAB (UK) , USMLE(USA) , MCI ,PMDC,BMDC, NMC etc.
Departments
Department of Clinical Medicine
Department of Medical Psychology
School of Stomatology
Department of Rehabilitation
Department of Iconography
Department of Anesthesia
Department of Medical Cosmetic Science
School of International Students