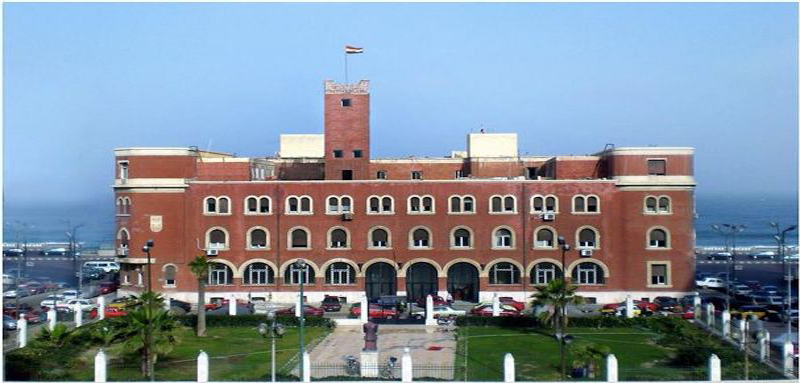 ALEXANDRIA UNIVERSITY
Initially referred to as Farouk University, Alexandria University was established in 1938. After 1942 Alexandria University performed autonomously and Medical faculty was founded by a royal decree. Today Alexandria University serves as the home of more than 15,000 undergraduates. It is the second-largest university of Egypt. 16,000 part-time undergraduates and 5000 international students are also part of Alexandria University.
University has a QS world ranking of 801 and 4th country rank. Alexandria University is also affiliated with the Supreme Council of Universities, Association of Arab Universities, Association of African universities, Agene Universitaire de la Francophonie. Alexandria University has been part of the top 5% of universities in the world.
Alexandria University has also received many awards like Encouragement State Award, 27 awards in Encouragement University Award.
University has a strength of more than 1700 staff members.
Alexandria University is also recognized by WHO, MCI, Ministry of Higher Education, Egypt
Alexandria University is a pioneer in providing an innovative, accessible, challenging, and adaptable learning environment.
University has 7 resources being horticulture, medicine, Expressions, Trade, Designing, Law, and Science.
Student accommodation provides a healthy, safe, and conducive environment for personal and academic development. Students get services like kitchens, laundries, cafeterias, theatre, reading room.
Athletic activities are also supported on the campus. Food services are both vegetarian and non-vegetarian.
University also offers many community services like medical facilities in remote areas, food to the underprivileged.
Eligibility
It is advised to apply early to start your admission process. There are better chances to get admission if you apply early.
NEET qualification is required for Indian students.
Age should be from 17 to 26 till 31st December of the admission year.
Class 10+2 should be in Physics, Chemistry, Biology, and English marks with a min of 60%-65% score.
IELTS/TOEFL Score
Ministry of Education of Egypt stipulates good mental and health conditions as well.

Necessary documents
10th mark sheet
12th mark sheet
NEET scorecard
Birth certificate
Migration certificate
Valid passport
Statement of purpose (with 500 words)
Physical Medical Fitness Certificate, HIV medical test reports
Gap Certificate (in case there is any gap)
6 months bank statement
Police character certificate.
3 month of Bank statement(minimum balance of 3 lac)
Passport size photo( 70% face, white background, matte finish)

This 5+ 2 year course has following Fee structure
| | | |
| --- | --- | --- |
| | 1st year fees (INR) | 2nd to 5th (INR) |
| Tuition | 56,2500 | 450000 |
| Hostel | 11,250 | 11,250 |
| Visa and other legal documentation, assistance till university, attestation from , registration in MEA etc. | 26,2500 | - |
| Miscellaneous | 7,500 | 7,500 |