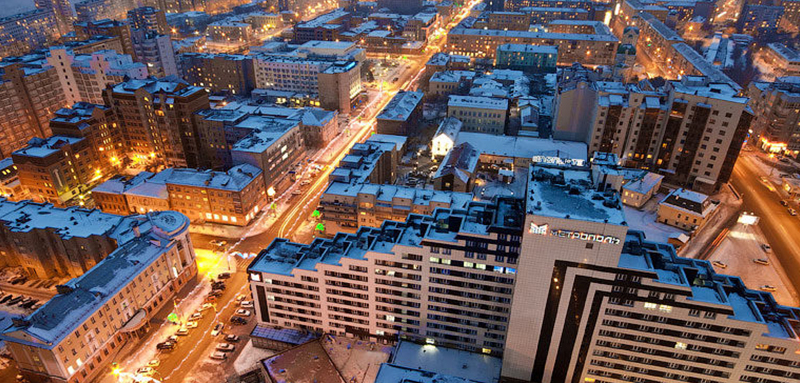 INTRODUCTION
Nowadays medical faculty comprises 16 departments, 14 of which are clinical. Clinical departments are based in large, well-equipped hospitals in Krasnoyarsk: in regional clinical hospital No1, the city hospital No20, No7 and No6, in SCC FMBA, the regional perinatal center, the Federal Center for Cardiovascular Surgery, Regional Clinic Cancer dispensary in interregional ophthalmologic center, maternity homes and clinics of the city.
Manages 16 departments of medical faculty of 13 professors and 3 associate professors. The faculty has 41 professor, 80 associate professors. Two vice-rector head of the department of medical faculty: Professor M. Petrova Marina (Vice-Rector) - the Department of outpatient therapy, family medicine and healthy lifestyles with the course software and Professor Nikulina Svetlana (Vice-Rector for Academic Affairs) - the department of internal diseases No1.
Medical Faculty of the Krasnoyarsk State Medical University is known for its scientific achievements and practical developments. Thanks to modern technical equipment and the edge of the city hospital was able to introduce a lot of developed in the Faculty of treatments, some of them unique. For example, intra-arterial infusion method, developed under the leadership of Professor JM Lubny, or a method of wound dialysis, developed under the leadership of BS Grakova.
Big development and international recognition to the scientific direction, developed by Professor LL Rodnyansky and his disciples: surgical treatment of scoliosis special endocorrector, treatment of diseases of the hip joint endoapparatom original design. Professor VA Opaleva-Stegantseva introduced "Register of myocardial infarction" and 3-stage system of rehabilitation of patients with myocardial infarction in Krasnoyarsk.
On this subject a few theses defended. Scientific development V.A.Shulmana professor and his students in the field of arrhythmology occupy a leading place in the country. On the primary clinical basis of the Department of Neurology - ECX "SOMTS", and then - FGBUZ "SCC FMBA of Russia" is created only on the territory of Siberia and the Far East Center for neurorehabilitation of patients with lesions of the central and peripheral nervous system. Since September 2008, in the Krasnoyarsk region, thanks to the organizational work of prof. SG Vakhrusheva applied technology cochlear implant system. In June 2009, it carried out a comprehensive program "Provision of hearing people of the Krasnoyarsk Territory rehabilitation facilities - implantable hearing aid Baha bone conduction.
Management and staff of the Faculty dean's office are constantly introducing new forms of learning. So, in 1989, introduced the written form of exam and test control of students' knowledge, then the rating of training students and computer technology. Currently actively introducing interactive learning technology, simulators and simulations. This allowed the curriculum in the specialty 060101.65 "Medicine" to become one of the "Best innovative educational programs in Russia" for the past four years. This project is designed to help students and their parents to choose the best programs and higher education institutions for further training.
In total, the medical faculty has trained more than 23,000 doctors. Graduates of medical faculty work in the Krasnoyarsk region, near and far abroad, more than 80% of doctors Krasnoyarsk Territory have medical faculty diploma.
Study in Krasnoyarsk State Medical University
Course Duration:
6 years
Medium of Study:
English medium
Direct Admission:
Acknowledged by::
Medical Council of India.
Enlisted by WHO.
Recognized by Ministry State Health and Education Russian Federation.
European Standard Education:
Well equipped and clinics;
Hostels with 24x7 security services and round o'clock medical emergency backups;
Library;
Canteen (Asian and European Cuisine);
Semester base Student Evaluation & Reporting.
MEDSTUDIES
"We are committed beyond excellence in education to student support at registration to graduation and beyond"
Supporting in passport making
Easy enrollment and admission
Invitation and visa assistance
Airport pickups and tight services
Semester to semester evaluation of students
Medical in insurance
24x7 student assistance
Annual parents, faculty meet and seminar
Documents required for enrollment in MBBS course:
Scanned copy of Application Form
Scanned copy of passing certificate and mark sheet of class 12th,
Scanned copy of passing certificate of class 10th,
8 color photograph with white background 3"4"
Scanned copy of passport**
Documents and Essentials To Be Carried Along:
Original Passport**
Original 12th mark sheet and certificate.
Photographs 3"4"
Enrollment/Admission Letter
Minimum of one pair of Winter Clothes( Trousers, Jacket, Gloves & Cap)
Requirements for Visa:**
Original Passport
Invitation Letters
Visa Application Form.
3"4" photos with black & white background.
HIV report.
Documents in favor of Admission.
Krasnoyarsk State Medical University, Krasnoyarsk, Russia Fees Structure-
| | | | | |
| --- | --- | --- | --- | --- |
| | Tution Fees (Rubles) | Hostel (Rubles) | One time charges (Rubles) | Total (Rubles) |
| First Year | 262900 | 10000 | 140000 | 412900 |
| Second Year | 262900 | 0 | 0 | 262900 |
| Third Year | 262900 | 0 | 0 | 262900 |
| Fourth Year | 262900 | 0 | 0 | 262900 |
| Fifth Year | 262900 | 0 | 0 | 262900 |
| Sixth Year | 262900 | 0 | 0 | 262900 |
| Total | 1577400 | 10000 | 140000 | 1727400 |
Food and living cost 150-200 US$ per month
*Medical Insurance from 2nd year 100$/year.
*Visa extension 50$/year.
*Seats Available- 75. 1st- 5th year
*Hostel is available for first year students only.
One Time Charges Includes
| | |
| --- | --- |
| S.No | Details |
| | |
| 1 | Admission/Invitati on Letter |
| 2 | Airport pickup |
| 3 | Medical Insurance (1 Years) |
| 4 | Medical Checkup |
| 5 | Immigration Insurance |
| 6 | Documents Translations |
| 7 | Nostrification |
| 8 | Police verification |
| 9 | Transfer Charger |