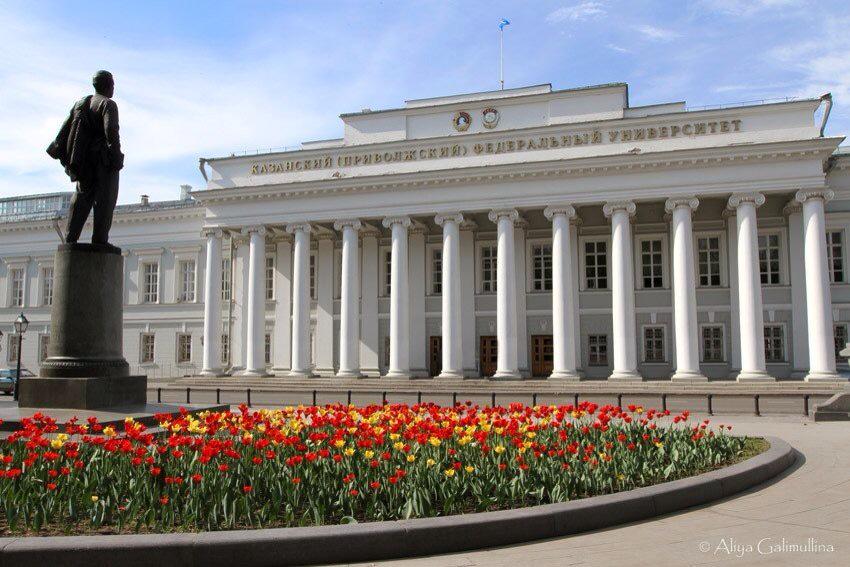 About Kazan Federal University
Kazan Federal University ranks among the top 370 universities in the World University Ranking 2021. Kazan Federal University was also rated with four stars in the QS Stars evaluation system.
Kazan Federal University, a public university in Kazan, Russia is known as a public research university. Kazan Federal University is one the most prestigious and oldest universities in Russia. Kazan Federal University, Russia's second-largest university, boasts a high-quality infrastructure and innovative teaching methods that make it extremely popular with international students. Kazan Federal University is one of the top five Russian universities, which was initially chosen by the Russian government to increase their international competitiveness in the best research and education centers.
Kazan Federal University was founded in 1804.
Kazan Federal University, a modern university active in international and local cooperation, is a dynamic institution. The unique culture of Kazan Federal University is a key factor in the development of Kazan, and the Volga region.
Kazan Federal University has been rated the best among Russia's higher education institutions. 3000 professors offer highly regarded undergraduate and postgraduate programs. Many of them have doctoral degrees, while others are influential scientists from Russia and around the world.
Kazan federal university has 18 primary educational units. Two of these are territorial branches. More than 45,000 students are enrolled in over 500 degree programs at undergraduate and postgraduate level (including doctoral and double-degree programs).
Kazan Federal University has over 11,000 international students. Research and exchange opportunities are another example of the university's international outlook. KFU faculty and students participate in bilateral exchange and research programs with 290 partner institutions from 64 countries. Kazan Federal University offers many undergraduate and postgraduate medical degrees in English.
Kazan Federal University Medical Institute
Institute of Medicine and Biology is one of the most intensively developing institutes of Kazan Federal University. KFU medical institute is composed of more than 60 subdivisions, including departments, research labs, museums, and the Botanical Garden.
WHO and Indian Medical Council recognize Kazan Federal University. Kazan Federal University's medical degrees are internationally recognized and have received an excellent WHO ranking. For foreign students, medical programs are offered in English. After completing the six-year MBBS program, an MD degree will be awarded. This is the equivalent of MBBS in India.
English-taught Medical Courses at KFU
General Medicine (MBBS), Duration 6 Years
Dentistry BDS - Duration 5 Years
MBBS Fees Kazan Federal University Russia – MBBS Fee Structure
| KAZAN FEDERAL UNIVERSITY RUSSIA | TUITION FEE/YEAR | HOSTEL FEE/YEAR | FEE IN US DOLLARS | FEES IN INDIAN RUPES |
| --- | --- | --- | --- | --- |
| Fees for the 1st year | 5300 US DOLLARS | 200 US DOLLARS | 5500 US DOLLARS | RS 39,000 |
| 2nd-6th Year Fees | 5.300 USD DOLLARS/YR. | 200 USD DOLLARS/YR | 5500 USD DOLLARS/YR. | RS 3,95,000 per Year |
| Total fees for the 6 year MBBS Course | | | 33,000 US Dollars | RS. RS. |
Tuition fees Included in the price: Study materials, library charge, laboratory charge, and examination fee.
Hostel Fees Included: Accommodation, Bedding and Furniture. Electricity and Gas Supply.
Kazan Federal University offers MBBS courses
Academic calendar for Kazan Federal University
Kazan Federal University's basic programme classes start on September 1 and finish on June 30. International students may be granted an exception in certain circumstances. For example, if the student is still waiting for a visa or to obtain their previous degree, the university might accept late applications. There are two semesters. The first is from 1 September to 25 January and the second is from 9 February to 30 June. Students pass exams at the end of each semester. They have 2 weeks of winter holidays (25th January to 9th February) and 2 months of summer holidays (from 1st July to 30th August).
Kazan Federal University Admission Requirements (for MBBS Admission 2023).
Candidates must have passed the Class XII/higher secondary exam with Science subjects i.e. Physics, Chemistry, and Biology are required. They must also have studied English as their main subject in order to pass the qualifying exam.
Candidates must score at least 50% in aggregate (in PCB) and more in their CBSE/ISC 12th results.
Candidates must also meet the age limit criteria, i.e. They must be at least 17 years old when they apply for admission.
According to the MCI rule, Indian students who wish to study MBBS abroad must pass NEET exams.
NEET marks are valid for three years, but they can only be used to take admission abroad for MBBS and not in India.
Documents required for university applications:
Certificates for School/College and Mark sheets
Formulation
Passport (minimum validity 18 months)
NEET Result for Indian Students
You can prove that you are able to support yourself financially while studying MBBS in KFU
Kazan Federal University Campus
Kazan Federal University offers a range of living spaces and comfortable apartments. Here you will find a medical center, pharmacy, drugstores, sports equipment rental station, copy centre, laundry, beauty salon, cafeteria and many other facilities. The application is required because space is limited. [slideshow_deploy ID='8310"]
KFU has an accommodation facility
Kazan Federal University, Russia's only higher education institution, has sufficient housing units to house all of its students.
Hostels offer comfortable accommodation, including a room for 2 to 3 people, 1 kitchenette, 1 WC, and a shower. Students are not allowed to choose their rooms. There are limited rooms available so students should apply early to get priority.
Family Stay: KFU offers family accommodations with host families who have been welcoming international students for many decades. For a month, the price is 20 000 Rubles (room and breakfast). Breakfast and a separate room are included in the price.
Students Activities and Organizations
The University places a high priority on student integration and being inclusive. You will meet people like you, regardless of your identity. They will challenge your assumptions and broaden your horizons. It is easy to get involved. There are approximately 50 student organizations and clubs you can join.
Kazan is a city that has a millennial history. It combines the cultures and traditions of both the Orient and Occident. Kazan is home to one of the most important economic, political and scientific centers in the country. Kazan is
Kazan, a historic and culturally rich city, has been dubbed the "Third Capital" of Russia. It is a city that has a tremendous charisma and inspires its residents and visitors. With a population of 1,143.535, the city is Russia's 8th largest city. It is located in central Russia, and it is the capital of Tatarstan Republic.
You can find the University in Kazan's historical centre. It is easy to travel by underground metro from the dormitory to the University. Kazan is a well-known city for hosting international sporting and cultural events such as Universiade 2013, FINA World Aquatics Championships 2015. 21st FIFA World Cup (2018). International Festival of Muslim Cinema, International Classical Ballet Festivals, and many others.
Interesting facts about Kazan
The urban environment is safe and high quality.
For many years, interfaith consent
High-quality public health services
Infrastructure of world-class quality
The quality of life is the 4th most important indicator in Russia.
Kazan is 9th in Russia for the quality of its education.
Kazan will also host the 2018 FIFA World Cup.