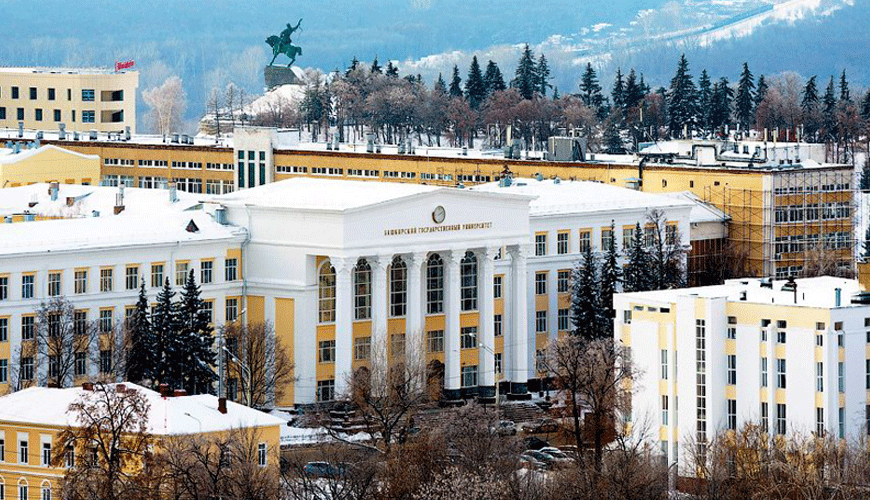 "Bashkir State Medical University, Russia's oldest and most prestigious medical university. Bashkir State Medical University is one of the top 10 Russian Medical Universities. International students are attracted to Bashkir State Medical University's low tuition fees and simple admission process.
Bashkir State Medical University, Russian Federation is one of Russia's largest medical-scientific centers. UFA is Russia's largest and most beautiful city. Bashkir State Medical College is an educational institution that has been providing training for students since 1932.
Bashkir State Medical College, EST 1932
The Ministry of Education of the Russian Federation has granted Bashkir State Medical University a license to train international students.Bashkir State Medical University is one of the most prestigious medical universities in Russia. It has been ranked 10th among all the others.. This University is today a large scientific institution that conducts fundamental, applied, and methodical scientific researches. The future Bashkir State Medical University will be a unit of scientific, educational and therapeutic processes. It is hoped that their university's staff can handle the task of training and retraining highly qualified medical personnel in today's modern world. Bashkir State Medicine University has extensive scientific connections with foreign higher education institutions and is a member the World Health Organization (WHO).Recognized by the Medical Council of India India (MCI)(MMC) Malaysian, GMC UK, and many other countries. Bashkir Medical School has hosted students from over 30 countries in Europe, Asia and Latin America. Over the course of this time, 2500 general practitioners, dentists and pediatricians were trained for overseas countries. For those proficient in English, the General Medicine course can be taught in English. Those who choose to study MBBS in English don't need to learn Russian. They will be admitted to the first course in English where medical subjects are taught.
Today, Bashkir State Medical University
It has grown to be a major center for undergraduate and graduate courses. This allows for the operation of postgraduate programs in 56 scientific majors as well as doctoral courses within 8 scientific majors. There are 10 doctoral councils and 3 candidate dissertation councils responsible for defending and awarding academic degrees across 23 majors. Bashkir State University offers opportunities to not only acquire quality knowledge and master professional skills, but also to lead a vibrant, active, and exciting life. Students can do the same thing as current students who are part of many creative teams or student associations. The University has 615 faculty. BSMU boasts over 8000 medical students and more than 500 full-time faculty in the school of General Medicine (MBBS), Dentistry, Pediatrics and Nursing, Pharmacy, Preventive Medicine, and Pediatrics. The Faculty of General Medicine prepares specialists in internal diseases, surgery, psychiatry and dermatology, Venereology, infectious disease, and other specialties. Modern diagnostic equipment is available in all departments. Lectures are given by foreign scientists and consultants. Bashkir University is home to 7 buildings, an outpatient clinic for medical and dentistry, well-equipped laboratories and a university hospital. Bashkir State Medical University also has five dormitories, a summer camp and a library. Bashkir State Medical University has produced more than 33 000 doctors over the years.
The following programs are offered by Bashkir State Medicine University:
Faculty of General Medicine (MBBS).
Faculty of Dentistry
Faculty of Pediatrics
Faculty of Pharmacy
Faculty of Sports Medicine
Faculty of Postgraduate Studies
Faculty of Adaptive Physical Education Culture
Faculty of Clinical Psychology
For foreign students, faculty
Higher Education Nursing School
Faculty of Pre-University Education
MBBS Fees Bashkir State Medical University – Fee Structure 2021
Russia's Bashkir State Medical School
Tuition Fees per Year
Hostel Fees / Yr.
Fees in US dollars
Fees in Indian Rupees
1st year fees
5000 USD
300 USD
5300 USD
Rs. Rs.
2nd-6th year fees
3900 USD/Yr.
200 USD/Yr.
4100 USD/Yr.
Rs. 2,90,000. Rupees/ Year
Total MBBS Fees over 6 Years
25,800 US Dollars
RS 18,10,000 (approx. 1 USD @ 70 Rupees
Total fees for 6 Years Rs. 18,10,000 (approx. 18,10,000 (approx.All expenses, including tuition fees, hostel fees and administrative fees, as well as medical check-ups, health insurance, visa extension costs, and immigration registration are included in the first-year fees. Indian students who are admitted to the 1st class must pay the entire academic year's fees. The tuition fees for each semester can be paid starting in the second year.
Tuition fees vary depending on the specialty and are reasonable. The following facilities are included in tuition fees for students:Free use of libraries, reading rooms, and laboratories; manuals and course material; and free use by sports clubs and cultural centers.
ACHIEVEMENTS
BSMU Clinic, a Bashkir State Medical Univ. medical and scientific center, is now a part of the Bashkir State Medical Univ. There are 650 beds in the Clinic. The Clinic has 650 beds. More than 20 000 patients come from Russia to receive treatment. There are more than 8000 operations performed annually. The BSMU Clinic's surgeons perform the following high-tech procedures: pancreas and liver resections, small intestine reconstruction surgeries, stomach and small intestine surgeries, and all types of thoracoscopic surgery, brachytherapy, and coronary artery stent surgery. Medical practice includes a variety of techniques for angiographic studies, manipulations of all vessels, bile and liver chemoembolization, as well as manipulations of the uterine artery in fibromyma. The Clinic offers minimally invasive and transplantation surgeries.
INTERNATIONAL RELATIONS
Over 8000 foreign and Russian students are enrolled in 69 departments. The Office of Foreign Students coordinates training foreign students at BSMU. It is responsible for registering, admitting, and managing Preparatory and Russian Language classes. BSMU is involved in bilateral exchanges of medical student within the International Federation of Medical Students Association Program.
Bashkir State Medical School Many foreign universities, clinics and scientific centers, including those in the USA, Great Britain, China, Norway, Germany, China, and China, cooperate with BSMU. Students and faculty members of BSMU take part in international exchange programs, conferences, workshops, and researches with our international partners.
The Student's Life at BSMU
Five hostels at Bashkir Medical University can house 2000 students. Flat type hostels can be described as: With attached kitchen, toilet, bathroom and toilet. All hostels have full air conditioning and are fully furnished. Two to three students can share a room in the basic system. Internet access is available in hostels. Students can get Indian food from the hostel's canteen and can also watch foreign channels (Hindi or Tamil). There are also Internet facilities available.
The hostels are all well secured with security officers. The hostel is cleaned daily and bed linen is changed every week. Every year, BSMU hosts cultural programs in which students come from all over the globe. Indian student associations celebrate festivals such as Diwali and Holi. Every year.
BSMU organizes tournaments such as table tennis, football, basketball, and badminton. Bashkir University Library has over 500000 books. 85% of these are special medical literature. There are 4 special reading rooms with 252 seats. The library also has a local net and an electronic catalogue that allows access to many databases.
Admission Requirements 2021
An Indian applicant must have passed Senior Secondary School (intermediate), with at least 50%, in order to be admitted to Bashkir's state medical university. The applicant must also be able to pass the NEET-UG exam. These are the entry requirements. The candidate must also be at least 17 years old at the time of being admitted to the university.