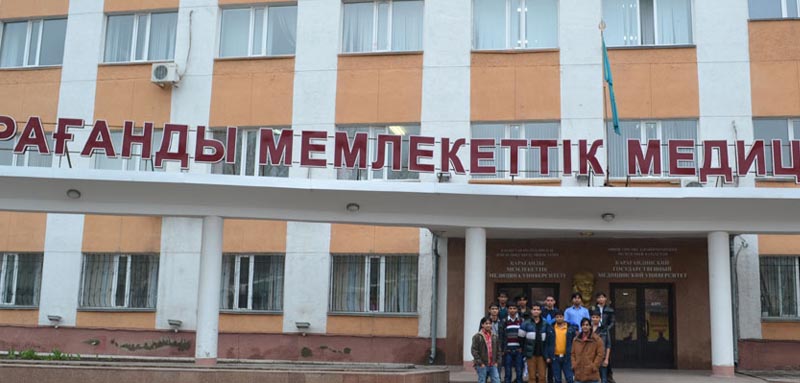 INTRODUCTION
Karaganda city is vivid modernized city, located near to capital is one of the main economic, financial centre of the country, which indulges investment tycoons from India (factory of arcelor mittal)and all over the world ,not also city is major education hub with students from all over the world studying, city administration ensures all possible majors of safety and responsibilities especially for foreign students this is the reason it's also called "city of peace".

city offers wide varity of food from Indian to Russian to Chinese, easy cheap convenience is available 24 hrs with all cab's, buses connecting various part of city.

Today Karaganda State Medical University is one of the leading medical university of the Republic of Kazakhstan: according to the results of the National Accreditation Centre's rating in 2008, KSMU has occupied the 8th place among 60 Kazakhstan leading universities and now it is the leading medical school in the Republic. State Certification Commission (2007) noted the high achievements of the University in the organization of academic, research and educational efforts and was recommended to -establish a school advanced experience based on KSMU not only for medical universities in Kazakhstan, but in Central Asian Republics and CIS countries -.

KSMU is the first medical university in the RK, which has passed away successfully in 2005, the certification in accordance with the requirements of all kinds of management quality of International Standard ISO 9001-2000 certification authority NQA -Russia - the Russian Representation of the British authority in certification management systems, NQA - UK Global Assurance.

R.S.Dosmagambetova graduated excellent Karaganda State Medical Institute in 1979. She worked on specialty trainee-researcher, doctor and laboratory assistant. After the defense of Ph.D. thesis in the Institute of basic pathology and pathological dissertation AMS USSR in 1984 she worked as assistant and in 1992 - as a docent of medical diseases sub department in KSMI. In 1998 she presented doctoral dissertation on degree of "medical diseases" in KazNMU, and in 2001 she was approved the down-grade of professor on degree of "medicine". In September, 2001 she was the vice-chancellor in academic and educational efforts in KSMA. 4.08.2011 she nominated on the place of Principal of KSMU.
leading auditor NQA-UK, NQA-Russia conduct external assessment of KSMU quality management system performance in the area of:
Development and provision of educational services for undergraduate and postgraduate medical education, including experimental educational programs, postsecondary professional education in Medicine;
Provision of treatment and diagnostic services;
Research and development in the field of medical science;
Provision and management of library and information resources.
According to the supervisory audit program audit of following departments was conducted for evidence getting:
Quality management department;
Deanery of general medicine and stomatology faculty;
Department of therapeutic stomatology with course of orthopedic stomatology;
Department of surgical diseases No. 1 with military surgery;
Deanery of continuous professional development faculty;
Department of therapy, transfusiology, pathological anatomy with course of advance of pedagogical qualification;
Scientific-research center;
Student's Health center;
Medical college.
While conducting of supervisory audit external auditor NQA-Russia empathized that HEI quality management system is actively developed, supported and enabled by needed resources. Objective evidences of improvements are presented in educational programs ranking. KSMU has 1st place in Kazakhstan HEIs Ranking. QMS of medical college is actively developed and supported: material base of college is improved - territory was enlarged, college moved to new building, computer equipment of educational process was renewed from 2010. QMS of student's health center is supported by staff. New equipment is pursued; repair of students' health center is conducted.

Resulting external assessment of KSMU quality management system positive decision that KSMU quality management system is actively developed and meets requirements of international standards ISO 9001:2008, actively supported by staff and enabled by leadership, confirmed by high acknowledgment was issued. Positive decision about extension of certificate verifying that KSMU quality management system passed assessment and registration by authorized organization on accordance with requirements of international standards ISO 9001:2008 was issued and additional certificates on departments: medical college, scientific-research center, dental clinic, student's health center, library, were issued
Hostel
University provide and ultra modern euro remount infrastructure for residence if indian students which has all modern facilities of hostel like 24 hrs hot water supply, electricity ,internet wifi connevctivity,24 hrs open separate study rooms ,library, bathroom ,2 kitchens on each floor on either sides equipped with all modern gadgets hostel is markedly cheap and surprisingly affordable.