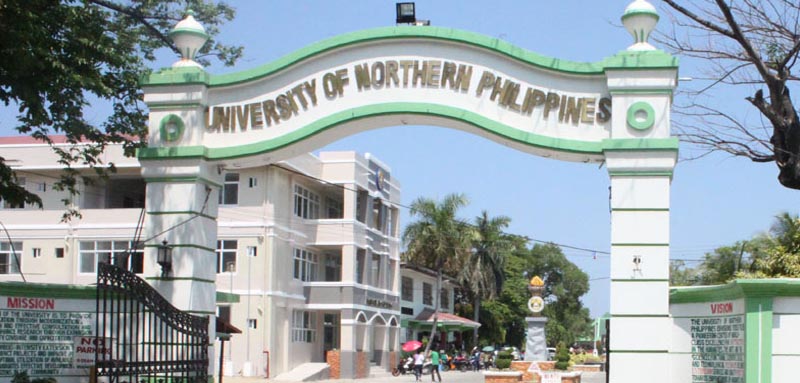 INTRODUCTION
The University of Northern Philippines (UNP) is a university in Barangay Tamag, in the City of Vigan in the province of Ilocos Sur, Philippines. It is the first and oldest state university in Northern Luzon which offers low tuition fee, tracing its roots to 1906, which is older than the University of the Philippines by two years. It is the only state university in the province aimed for less-fortunate people and one of three state-owned educational institutions of higher learning operating in Ilocos Sur.

The campus of the first state university of northern Luzon can be found in Barangay Tamag in Vigan. Its tallest building is that of the College of Health Sciences. It was begun in the eighties and was completed in 1997. It is where the medical and nursing programs are offered. UNP also has a College of Arts and Sciences, College of Business, Administration and Accountancy, College of Engineering, College of Architecture, College of Fine Arts, College of Technology, College of Communication and Information Technology, College of Crimonology, College of Teacher Education, School of Law, College of Social Work and an Open University.
History
The university began as the Vigan High School (present-day Ilocos Sur National High School) in 1906. Its shop department was converted into a separate intermediate level school, named the Vigan Trade School in 1910. It opened its high school in 1927 and produced its first graduates in 1931, when it evolved as the Ilocos Sur Trade School. They were both in Vigan town. Two of the buildings still exist: one being used as a warehouse for a construction supply firm, the other is the location of the Vigan City Trade Center.

President Manuel Luis Quezon converted the Ilocos Sur Trade School in 1941 through the help of Assemblyman Benito T. Soliven and Governor Pedro Singson Reyes. However, World War II halted its implementation.

In 1951 the Ilocos Sur Trade School became the Northern Luzon School of Arts and Trades (NLSAT) by virtue of Republic Act 547. However, Republic Act 2700, or the General Appropriations Act of 1960, converted it back to Ilocos Sur School of Arts and Trades (ISSAT).

It proved temporary: In June 19, 1965, then-Congressman Floro S. Crisologo authored Republic Act 4449. It was signed into law at the Philippine Embassy in Roppongi, Tokyo, Japan,converting ISSAT into the University of Northern Philippines. It then began implementing its Charter on October 14, 1965. Crisologo is recognized as the founder of the university.

The Candon Community College (CCC) was incorporated into the university in 1989 through Republic Act 6744, through the efforts of then-Congressman Eric D. Singson. It acted as a semi-autonomous unit. Despite this semi-autonomous status, CCC was split from the university by virtue of Republic Act 10085, also by Singson, to become the Northern Luzon Polytechnic State College in 2010.

In the late 1980s the commitment of the university to the new Stepladder Nursing Curriculum pioneered in Palo, Leyte was marked by the construction of the College of Health Sciences building, the tallest building in the university and one of the tallest in Ilocos Sur, finished in 1997.
Campus
The University have four campuses, there are- Vigan Campus is ocated in Barangay Tamag; houses most of its 14 core colleges, the University Infirmary, and the university's FM radio station.

Sinait Campus houses the Upland Research and Development Center. Quimmarayan Campus houses the agricultural, fishery and research courses; and the Environmental Research and Training Center Nalvo Campus houses the Marine Research and Development Center

The University has a main campus located in Vigan City, Ilocos Sur and three satellite campuses to wit: UNP Sinait (Upland Research and Development Center), Quimmarayan, Sto. Domingo (Environmental Research and Training Center) and Nalvo, Sta. Maria (Marine Research and Development Center. The main campus has fourteen colleges, namely:
Graduate School
College of Law
College of Architecture
College of Engineering
College of Arts and Sciences
College of Business Administration and Accountancy
College of College Criminal Justice and Social Work
College of Fine Arts
College of Health Sciences
College of Nursing
College of Teacher Education
College of Technology
Mission And Vision Of UNP
We are a community of men and women dedicated to work together and support one another in wisdom and knowledge with the mission to graduate competent and morally upright physicians who are:

The mission of the University is to provide quality education through modernization, accreditation and effective consultation and linkages; enhance research through expansion of commodity coverage and capacitation of faculty and staff members; intensify extension through provision of impact projects; and improve production through the optimal utilization of available resources making our graduates effective development managers and useful citizens in the community.

The University of Northern Philippines envisions itself to be a pioneering Center of world-class excellence for instruction in the humanities, the arts and the sciences; functional scientific, social and technological researches; relevant extension services and quality production towards empowerment of graduates for sustainable development.

Study overseas is very glad to help of those student who want to gain success and study in abroad is just a dream for them Study Overseas always a way for those students.

Study Overseas entire team is always ready to help you to become a success doctor. We make your dream true.