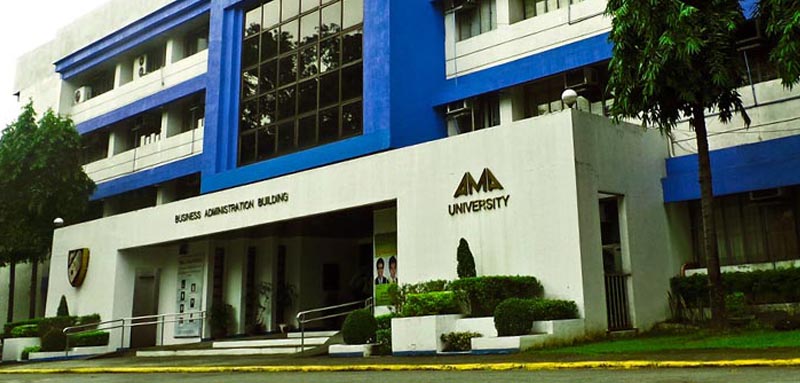 INTRODUCTION
AMA University is the 1st and largest ICT University in Asia and the pioneer of computer education in the Philippines. Being the pioneer of Computer studies in the country, it was the first to:
Offer courses in Computer Science and Computer Engineering
Offer E-Learning
Provide 1 is to 1 student-to-computer ratio.
Offer Mechatronics
Receive ISO 9001 Certification among all the schools in the Philippines
Become a Microsoft Premiere Education Partner
Become an exclusive training partner of Avaya
Develop a University town in the Philippines comparable to Harvard, MIT and other similar institutions
Branch out to key cities and municipalities in the Philippines
AMA School Of Medicine are educational institutions across the Philippines that offers the same programs as AMACU but is under study for accreditation or recognition by the Commission on Higher Education. It focuses in Medical-related courses like Nursing. The Doctor of Medicine or MD course is offered in the Makati Campus of AMA. This is an intensive 4 year course which has been operational since 2008.
Faculty Of General Medical
Undergraduate Course- MBBS/MD (Physician)
Duration-6 years
The Medical course at AMA takes six years and leads to MD (Doctor of Medical) or MBBS.
In the under graduate program, during six years of study the students learn different subjects from fundamental subjects disciplines to special medical subjects.
Admission to the medical faculty takes place after conclusion of a contract. Foreigners learn in group of eight to ten along with other international students. The second year students attend their clinical studies where they can gain experience in nursing the patients. Clinical subjects are taught beginning from the third year of study.
The medium of instruction in the Medical faculty is English and Russian language.
The State Final Examinations On All The Disciplines According To The Syllabus Are Held Within One System Through 2 Stages:
Testing practical proficiency of final-year students (when exams on clinical disciplines are taken, testing takes place at the patient's bed).
Testing scientific/theoretical proficiency.
The successful students who will complete study of six years, will be awarded medical degree after passing the state exams. There is a wide range of specialization available in the public and private sectors, involving research, academic medicine, public health, clinical medicine and other areas. Specialties include Cardiology, Oncology, Paediatrics, Psychological Medical, Surgery, Pathology, Public Health, General Practice and many others.

Most doctors' complete postgraduate training in their chosen specialty Medical is a respected, rewarding, and truly international career. For the entry requirements please visit the Rules of admission page.