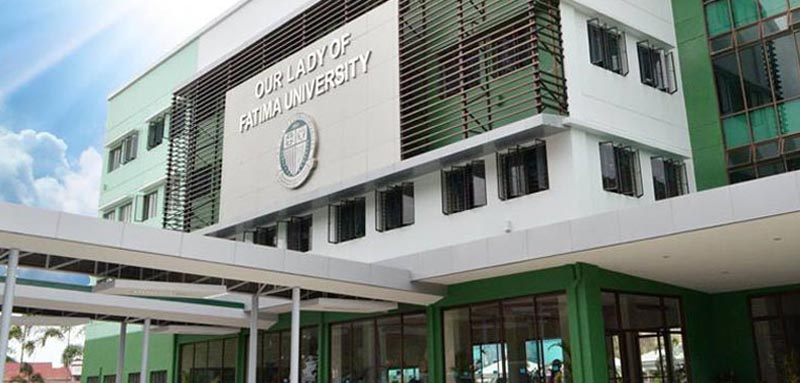 INTRODUCTION
Our Lady of Fatima University, formerly known as Our Lady of Fatima College, and also formerly known as Fatima Medical Science Foundation, Incorporated (FMSFI) is a private university in the Philippines. It has three main campuses, one based in Valenzuela City, the other in Quezon City, and the third in Antipolo, Rizal. The university concentrates mainly on allied medical sciences. Its name was derived from The National Shrine of Our Lady of Fatima or Pambansang Dambana ng Birhen ng Fatima (in the Tagalog language) near the Valenzuela campus, but is not affiliated with the Catholic Church, and welcomes students of all faiths.
Fatima College Of Medicine
The Fatima College of Medicine is one of the Philippine's most distinguished centers for medical education. Constantly responding to the rapid changes in science, technology and the social environment, Fatima fulfills its commitment to produce competent, world class medical practitioners.

It strives to create the best environment for students to master the principles and theories of medicine and obtain sufficient knowledge and experience to launch into a successful practice.

Its the first and only Philippine medical school to have an institutional clerkship program with a foreign hospital. In fact, the University has sent over 100 medical students for clerkship training at the Brooklyn Medical Center and Peninsula Hospital in New York and Jackson Park Hospital in Chicago. Thus, creating career opportunities abroad for young men and women.

In its almost more than 40 years of existence, Fatima has graduated more than 30,000 medical and allied medical health practitioners from all disciplines. Proof that makes Fatima a valuable contributor in the development of the medical and paramedical professions in the Philippines and abroad.

The Fatima College of Medicine is housed in five buildings where you'll find the school's lecture halls, seminar and conference rooms, research and teaching laboratories, classrooms, amphitheater, library facilities with audio visual monitors, administrative offices of the departments and parking space.

The College has the latest sophisticated medical laboratory equipment that meet the standards of the Board of Medical Education. Also, it has a computer laboratory equipped with internet access to facilitate research work and networking of all medical students.

All these are put in place to ensure that students have all the necessary tools for learning within their reach
Fatima Medical Center And Virtual Laboratories
At the heart of the College of Medicine lies the Fatima Medical Center which is a 200-bed hospital within the university campus. The Center is an institutional partner that serves as a teaching tertiary hospital fully equipped to give students hands on experience and exposure. It is furnished with sophisticated and cutting-edge medical, diagnostic and surgical equipment. It also houses a first class emergency room, intensive care unit, with centralized monitors, physical rehabilitation clinic, pulmonary laboratory, ophthalmology clinic and ENT clinic.

Fatima creates a "hands on classroom" providing students with extensive patient care experience. An edge that could reap benefits for aspiring medical practitioners. Equipped with cutting-edge training manikins and simulators, Fatima provides students excellent exposure to medical procedures giving them a competitive advantage
History
Founded in 1967 by Jose Olivarez and his son-in-law, Dr. Vicente M. Santos, the university grew out of Our Lady of Fatima Hospital. The hospital became the primary provider of medical and health care services for Valenzuela. Olivares was an entrepreneur and previously a chemistry professor at Ateneo De Manila University and at the University of the Philippines. Santos rose from humble origins in Hagonoy, Bulacan, graduated from the University of Santo Tomas, became an obstetrician-gynecologist, and ultimately delivered over 96,000 babies during his 40 years of service. The college seeks to promote the virtues of "veritas et misericordia" (Latin for truth and compassion). The founders set about improving the facility from a general hospital to a teaching hospital for health care providers such as nurses and midwives. This began in 1973 with the founding of Our Lady of Fatima College of Nursing. Dr. Santos and his wife Juliet Olivares-Santos continued the school's expansion, including the 1979 establishment of Fatima College of Medicine with the Pioneer Batch graduating in 1983. While Fatima still focuses mainly on medical and allied health studies, in the 1990s, the college diversified, starting programs in computer science, maritime education, education, psychology, biology, and business. The College became a University in December 2002, with Vicente Santos as its founding President. Upon his death, his wife, Dr. Juliet O. Santos, became the university's second president. @ xt five years further saw an increase in infrastructure development. New buildings were established in Valenzuela City and Quezon City, that were later infused with nursing virtual laboratories and simulators These technology-driven learning tools offered a wide range of patient scenarios where students can perform an array of diverse nursing procedures. This paved the way for Fatima's College of Nursing to be designated by CHED as a Center of Development in late 2008. Fatima's expansion continued with another campus being established in 2008 in Antipolo. Owing to recognitions it has received through voluntary accreditation of its programs within the framework of the Federation of Accrediting Agencies of the Philippines, the university voluntary subjected itself to CHED's Institutional Quality Assurance through Monitoring and Evaluation (IQuAME) in 2008. In early 2009, after being evaluated, it was placed in Category A (t) as a mature teaching university. More recently, "in recognition of the accomplishments, adherence to quality assurance as a higher education provider, the Commission on Higher Education through CEB Resolution No. 076-2009 granted autonomous status to the Our Lady of Fatima University for a period of 5 years from March 11, 2009 to March 30, 2014."
Campuses
The main campus is located in Valenzuela City, on the outskirt of Metropolitan Manila. Highly charged and steaming with activity, the main campus in Valenzuela City houses the College of Medicine Building and the Allied Medicine Bld (AMS) where the College of Dentistry is situated. Common areas are Wi-Fi accessible. Also situated in Valenzuela is the Fatima University Medical Center that is a partner institution for the College of Medicine.

Another cluster of Valenzuela Campus buildings are in the vicinity of the National Shrine of Our Lady of Fatima. This location houses the college of Hospitality and Institutional Management, College of Maritime and College of Business Administration among others.

The population of foreign students exposes one to diverse cultures and likewise gives the communit y an international touch.

The Valenzuela campus has easy access to downtown Manila and metro Quezon City. Bus and taxi commutes are easy and numerous. The metro train terminals (LRT: NW to SW and MRT: N to S) are only 15-25 minutes ride from campus.

*Valenzuela Campus exclusively houses the Doctor of Medicine Program, Doctor of Dental Medicine and College of Maritime Studies (as of SY2010-2011)
Quezon City Campus
Located on the outskirts of Quezon City, the Campus's quiet atmosphere offers the same brand of topnotch education as in the Valenzuela Campus. Its suburban location provides a gentle, homely atmosphere while being minutes away from metro Quezon City.

Established for the greater Quezon City Area, easy transportation is accessed as the nearby community is bustling with activity. A sub-campus in the Regalado area is also in place, that gives students access to the Fatima Eye and Rehabilitation Center, a Fatima University Medical Center establishment.

*Quezon City Campus caters to the same programs as Valenzuela and Antipolo (except for Valenzuela exclusive programs)
Antipolo Campus
Situated in the mountains of Antipolo, the OLFU campus' peaceful atmosphere (known for its scenic view) provides security and relaxation to students. It is a sprawling campus, having expanded to several buildings with state-of-the art facilities such as an indoor gym and regulation size basketball courts.

Transportation is readily available through access to the Sumulong and Marcos Highways. The campus is also located near several commercial establishments and in the Antipolo City and Masinag Areas.

It is also home to Fatima Phoenix Basketball Teams.

*Antipolo Campus caters to the same programs as Valenzuela and Quezon City (except for Valenzuela exclusive programs SY2010-2011)
Pampanga Campus
The newest addition to the campuses of Our Lady of Fatima University, i.e., Pampanga campus will be formally opening this coming June, 2013. The OLFU Pampanga campus will be initially offering five programs namely, Bachelor in Medical Laboratory Science (Med Tech), Bachelor of Science in Pharmacy, Bachelor of Science in Psychology, Bachelor of Science in Travel Management and Bachelor of Science in Criminology.

The Pampanga campus is located at Dela Paz, McArthur Highway in San Fernando City, Pampanga. The ground breaking ceremony of the new building was held last September 19, 2012. The same quality of education as other OLFU campuses will also be enjoyed by the students of Pampanga campus.

Aside from the above mentioned courses, the students can still enroll on other courses being offered by the East Central Colleges (ECC), which is now being managed and supervised by the Our Lady of Fatima University.
International Student
The International Student Office is responsible for the recruitment and welfare of international students and has a student's adviser on its staff. The International Student Advisory Service provides support for international students and their families throughout their time in Our Lady of Fatima University. The service also functions as a resource center where you can drop in for information and advice on issues such as accommodations, student visa, applications, academic problems, and life in the Philippines.

This office ensures that transitioning into OLFU and the Philippines will be as smooth as possible. It will continue to provide support and the best services to guarantee a wonderful learning experience and, a second home in OLFU.