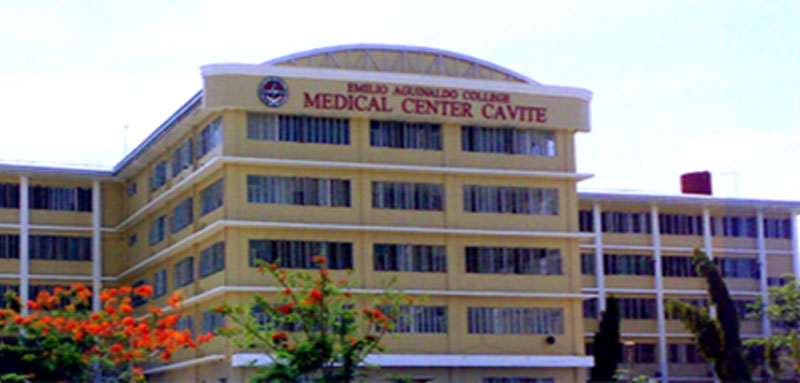 International School of Medicine
The Emilio Aguinaldo College School of Medicine was founded and established by Dr. Paulo C. Campos, a National Scientist in Nuclear Medicine. It was formally opened on July 23, 2001 with 24 enrollees. Dr. Salvador R. Salceda, an ophthalmologist, became the first Dean (2001-2003), followed by a gastroenterologist, Dr. Esteban P. Pineda (2003-2010), and a surgical oncologist, Dr. Conrado C. Cajucom (2010-2013). The fourth and present Dean is Dr. Asuncion L. Abaya-Morido, a general surgeon and the former Hospital Director of Medical Center Manila, now known as the Manila Med.
Our founder envisioned the School of Medicine to be an outstanding institution for medical education and health research. As such, the School shall provide an education and scientific environment that prepares the students to become professionally competent, socially-relevant and compassionate physicians with a strong commitment to lifelong learning. It is also committed to undertake relevant reforms on medical education in response to changing national and global health needs and scenarios, as well as newly generated medical information.
The School of Medicine is staffed by dedicated, respected and competent academicians, as well as clinicians who are well-known in their fields of specialty. It implements an outcome-based, synchronized curriculum, with early clinical integration and emphasis on interactive learning process. It also boasts of well-equipped classrooms, basic science and skills laboratories and a library.
In the past, classrooms, laboratory facilities and offices were all confined at the 9th floor of Building 7, and Building 5. But due to the growing population of both medical students and faculty members, expansion to the EAC Building 7, 10th floor became necessary.
The Manila Med, School of Medicine's base teaching and training hospital, is a tertiary training institution accredited by the Department of Health, an ISO9011: 2008 certified institution since 2011, and PhilHealth accredited Center of Excellence in 2010; a rare distinction among tertiary private and government hospitals in the Philippines. It is competently manned by active and visiting consultants, who are well-respected in their various fields of expertise and committed to teaching both the students and resident trainees during bed-side rounds and conferences In addition to this, the School of Medicine is also affiliated with other teaching and training hospitals like University of the Philippines - Philippine General Hospital (UP - PGH), Ospital ng Maynila Medical Center (OMMC), and the corporate-owned Emilio Aguinaldo College Medical Center - Cavite, which is strategically located in Dasmarinas, Cavite and that is best suited for community health-oriented programs. Community rotations in Pasay City, Metro Manila and selected government units in Cavite, through the Department of Family and Community Medicine, are also included to provide the students a better exposure and learning experience to caring for the marginalized sectors of our society.
Note:
The Emilio Aguinaldo College - School of Medicine is an active member of the Association of Philippine Medical Colleges Foundation, Inc. (APMCFI) and has been granted the Government Recognition by the Commission on Higher Education (CHED).
ADDITIONAL REQUIREMENTS
For Non-Filipino Students:
Passport (original copy)
Student visa
Student permit
Alien Certificate of Registration (ACR) as verified by the Registrar
Passing the English placement test given by the Aguinaldo International Language Institute
For Scholarship Application:
For Non-Filipino Students:
General Weighted Average (GWA)-1.75 or better
NMAT score - 75 percentile or higher
Entrance examination given by the School of Medicine
Note**:
NMAT requirement of 40 percentile and above applies to incoming freshmen only. ** Photocopies or scanned copies of the above-mentioned documents may be initially accepted to facilitate the admission of eligible applicants, provided that the original or official copies will be presented for verification. For transferees without TOR yet, a copy of grades may be submitted as initial basis for assessment of eligibility to transfer and entry level
EXAMINATIONS:
Validating exams, entrance exams for scholarship application, psychometric tests and English placement test will be scheduled.
CURRICULUM:
The Emilio Aguinaldo School of Medicine implements the Outcomes-Based Curriculum (2015-2016) in observance with the 10 learning outcomes namely: Demonstrate Clinical Competence; Communicate effectively; Lead and manage health care team; Engage in research activities; Collaborate with inter-professional teams; Utilize system-based approach to healthcare; Engage in continuing personal and professional development; Adhere to ethical, professional and legal standard; Demonstrate nationalism, internationalism and dedication to service; Practice the principles of social accountability. It is a 4-year curriculum leading to the degree of Doctor of Medicine, with an addition of 1-year internship in any APMC accredited hospital.
HOSPITAL AND COMMUNITY AFFILIATIONS FOR CLINICAL TRAINING
Manila Med (Base Training Hospital)
University of the Philippines - Philippine General Hospital (UP-PGH)
Ospital ng Maynila Medical Center (OMMC)
Emilio Aguinaldo College Primary Care Clinic and Birthing Facility
Our Lady of Sorrows Foundation Community Outreach Center, Inc. (OLSOFI)
Emilio Aguinaldo College Medical Center - Cavite
Dasmarinas City Health Office (Pagamutang Bayan)