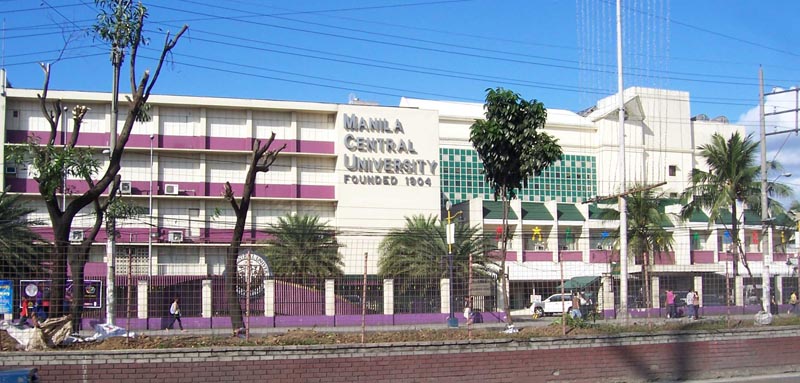 INTRODUCTION
The Manila Central University is a private, non-sectarian, non-stock educational institution situated in EDSA, Caloocan City, Philippines. It was founded and first directed in 1904 by Dr. Alejandro M. Albert.

MCU is "the first Pharmacy school run by Filipinos", and the "first Nursing school that offered the 4-year Bachelor of Science in Nursing program in the Philippines." The patron of the university is Minerva.
MCU is one of the former member universities of the University Athletic Association of the Philippines, from 1952 to 1954.
Colleges And Departments
College of Medicine
College of Dentistry
College of Arts and Sciences
College of Business Administration
College of Pharmacy
College of Nursing
School of Midwifery
College of Optometry
College of Medical Technology
College of Physical Therapy
College of Computer Studies
School of Graduate Studies
High School and Grade School
History
The Manila Central University had a very humble beginning. In 1903, at the request of several students from the University of Santo Tomas and others, Dr. Alejandro M. Albert organized a private review class.

This review class developed into the Escuela de Farmacia del Liceo de Manila in 1904, with Dr. Albert as the founder and director. Later on, due to the steady increase in enrollment, it was transformed into the Manila College of Pharmacy, with Dr. Leon Ma. L. Guerrero, Antonio C. Llamas, Feliciano P. Paterno and Atty. Filemon D. Tanchoco, Sr. as the incorporators. It was the first educational institution of its kind established and managed by Filipinos. Its success demonstrated the undoubted capacity and ability of the Filipinos managing their own affairs in the education field, especially then. Its initial organization was barely four years after the establishment of the Philippine education system.

The Manila College of Pharmacy became one of the leading institutions of higher learning of its kind. It produced many prominent pharmacists. Stable and secure in its position, the college expanded in number in 1929. Its Board of Trustees, answering a long-felt need for the training of the youth for dental services, opened the college of Dentistry. Manila College of Pharmacy became then the Manila College of Pharmacy and Dentistry in the pre-war era.

Open and dedicated to give the best education for youth, the college maintained its leading position in the education field. Unfortunately, the Second World War closed its portals in 1941.

During the Japanese occupation, the enemy systematically looted its extensive facilities, laboratory, equipment, museums and many more. During the liberation period, it was further looted of everything but the shell of its two buildings.

After the liberation of the Philippines, the Board of Trustees reorganized the college into Manila Central Colleges. In addition to Pharmacy and Dentistry, the reorganized institution offered courses in Liberal Arts, Education, Commerce, Business Administration and postgraduate courses in Pharmacy. And in 1947, the College of Medicine was added. In 1948, it became the Manila Central University after opening the College of Nursing and Graduate School, and met more than the sufficient university requirements.

In 1949, the MCU inaugurated its 10-hectare campus in Caloocan City. The colleges of Optometry and Midwifery, and the High School and Kindergarten departments were opened. Expansion projects and development programs for the university, and individual colleges were continuously drawn to meet education demands and the objectives of the University.
MISSION STATEMENT
We are a community of men and women dedicated to work together and support one another in wisdom and knowledge with the mission to graduate competent and morally upright physicians who are:
Equipped with proper understanding of essential habits, attitudes and professional ethics.
Provided with requisite basic knowledge and skills in medical practice, research and post graduate studies.
Committed to improve the community health care system and respond to national aspirations and global challenges. Realizing that in the process, the development of the individual's full potential is achieved thus contributing to the growth of the institution.
We Are An Institution Who Believes In The
Delivery of quality patient care
Development of competent, ethical providers
Pursuit of vigorous training and research activities
Availability of modern facilities and technology
Establishment of partnership with other agencies
We commit to work as a team by ensuring patient satisfaction, improving professional and spiritual and promoting institutional, loyalty and viability.
MCU-FDTMF HOSPITAL
A modern 209- Bed Tertiary health care center strategically located in Caloocan City, north of Metro Manila offering complete and efficient medical and surgical services.
Facilities
Emergency Room with 24-hour coverage by ER Consultants, Ambulatory Services, Operating Room & Delivery Rooms, Neonatal and Pediatric ICU, Medical & Surgical, ICCU. Private Rooms and Suites. Complete 24-hour Laboratory and Radiological Services. Heart Station, New Stress Test Machine (Marquette-Helige Cardiosys XT with Treadmill 2000 & Defiport SCP 912 Miniature Defibrillator), Pulmonary Stations, Hearing Center ( Audiometry and Tympanometry), Industrial Health Clinic. Octopus 101 Perimetry, Pain and Hospice Center. Bronchoscope, Physical Rehabilitation Center. Ultrasound, 4D Ultrasound, 2-D Echo, CT-Scan. Ambulatory Surgical Unit, Pediatric Playroom Therapy, Infertility Work-Up, Fetal Monitor, Video Laparoscopy, Video" Endoscopy, Hemodialysis. Menopause Clinic, Maternal High Risk Unit, Gynecologic Unit, Women's Health Unit, Oncology Clinic. Pharmacy. Acute Stroke Unit and Ambulance Services.
Also offering Executive Check-Up ( Out-Patient and In-Patient ), Pre-employment Screening, Annual Employment Check-Up, Package Deals on Normal Delivery, Ceasarian Section, D & C, Appendectomy, Herniorrhapy, Thyroid Surgery, Trabeculectomy and ECCE Surgery.
University Library
A spacious facility that is conducive to learning located at the 2nd, 3rd and 4th Floors of the Filemon D. Tanchoco - Learning Resource Center. The library provides instructional and informative materials covering various interests. The collection includes catalogue and updated books for each college. The library also has an updated subscription of foreign and local periodicals. In addition, there are several conference and function rooms for use by students, administration officials, faculty members, employees and guests.